Rube Goldberg Machines
Learn about Rube Goldberg Machines and the science behind them.
Have you ever heard of wacky Rube Goldberg machines? Explore how simple machines & force make them work & learn about the silly jobs they do. With this knowledge kids will create their own Rube Goldberg Machine prototype sketch. They may even be inspired to build a real working model at home!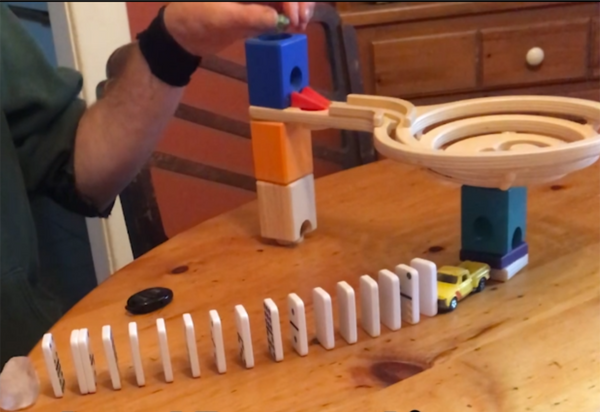 1

Your Guide
Jeff Hammerich
Learn more about me
Not only do I love strumming on my ukulele while my dog, Norman, sings along, I'm also passionate about encouraging kids to drum to their own beat! I've been an educator for over 20 years and it's my mission to make math and science (or any subject) come alive, be loud, messy and relevant! I enjoy adding a good dose of fun to learning and exploration with some light-hearted silliness dropped in, and of course - a dash of inspiration.
I've traveled all over the world and I love climbing, backcountry skiing, hiking and forever searching for the fabled Sasquatch.
2

Materials Needed

Drawing paper/pencil/eraser, Rube Goldberg Machine Planning Template, Rube Goldberg Action kit-10-15 dominos, 2 marbles, small inclined plane/ramp, pencil, 1 plastic cup, tape, and 2 extra materials of your choice.
3

Learning Focus
Communicating
Collaborating
Creative thinking
Critical & reflective thinking
4

Registration

You're selecting a Realtime Single A one-time Livestreamed Activity led by a qualified Guide.